Source: Berkshire Eagle
Friday, December 31, 1999
Bessie R. Face
STEPHENTOWN, N.Y. -- Bessie Rose Face, 90, formerly of South Stephentown Road, died Wednesday at Indiana Hospital in White Township, Pa. She had moved to Elderton, Pa., with her daughter, Jacklyn R. Face, in October to be closer to her son, ElRoy Face, a relief pitcher for the Pittsburgh Pirates from 1953 to 1968.
Born in Stephentown on July 29, 1909, she was the daughter of Alexander H. and Grace Hassan Williams.
She was a resident of the Stephentown and Nassau areas before moving to Knoxville, Tenn., in 1955. In 1961, she and her husband moved to Penn Run, Pa., to help run the ElRoy Face Motel, owned by her son. They returned to Stephentown in 1968.
Mrs. Face was employed by the former Faith Mills and ran the Faith Mills Boarding House in Averill Park many years ago. She was a homemaker.
Her husband, Joseph A. Face Sr. whom she married Sept. 27, 1924, died May 18, 1990.
Besides her son, of North Versailles, Pa., and her daughter, of Elderton and Stephentown, she leaves a sister, Elizabeth Hotaling of North Troy; six grandchildren; 12 great-grandchildren, and three great-great-grandchildren. She was predeceased by two sons, Leonard A. Face and Joseph A. Face Jr.
FUNERAL NOTICE -- Bessie Rose Face, 90, formerly of Stephentown, died Wednesday, Dec. 29. She leaves her loving son, ElRoy, and daughter, Jackie. She was the beloved grandmother to six, great-grandmother to 12, and great-great-grandmother to three. Services will be held Monday at 10 a.m. from HALL & HIGGINS FUNERAL HOME, 457 NY 43, Stephentown, where the Rev. Trygve Tomlinson will officiate. Burial will follow in East Nassau Cemetery. Calling hours at the funeral home will be Sunday from 2 to 4 and 7 to 9.
---
The following is an excerpt from the book "Landmarks of Rensselaer County, New York", published in 1897:
"The Hon. Rufus Sweet, born in Stephentown, January 22, 1833, is the son of Rufus and Mary (Shaw) Sweet, both natives of Stephentown. The grandfather, Elnathan Sweet, came from Connecticut to Stephentown on horseback in pioneer days. He married Miss Rodgers, a daughter of one of the early settlers of Stephentown. The Sweet family are of English and Scottish descent. The parents of Mary Shaw were Anthony and Dianah (Smith) Shaw, who were early settlers of Stephentown, coming from Rhode Island. The father of Rufus during his early life was engged in various occupations, but in this latter days followed farming. He was justice and town clerk and collector 21 years in succession. He died in April 1860. Mrs. Sweet died on August 27, 1856. Rufus was educated in the common and select schools in Stephentown and when quite young took charge of the home farm on which he has always resided. He owns the homestead of 190 acres to which he has added 125 acres. In 1857, Mr. Sweet married Eunice M. Bentley, daughter of Melancthon and Eliza C. (Smith) Bentley of Hancock, Mass. To Mr. and Mrs. Sweet have been born three children: George B., farmer of Hancock, Mass., (where he married Minnie E. White in 1880); Mary E.; and Carrie, a teacher in Virginia. Mr. Sweet has been ten years supervisor of Stephentown, railroad commissioner several years, and member of the Assembly from 1882 to 1883. On June 14, 1893, he was appointed superintendent of the poor of the county and in the following fall was elected to the same office by a majority of 7,121. He is a member of Amity Lodge, F. & A.M. also of the I.O.O.F."
Rufus Sweet Jr. was the son of Elnathan Sweet and Mehitable Rodgers. In 1857, Rufus, Jr., married Eunice Mary Bentley, born November 24, 1836.
---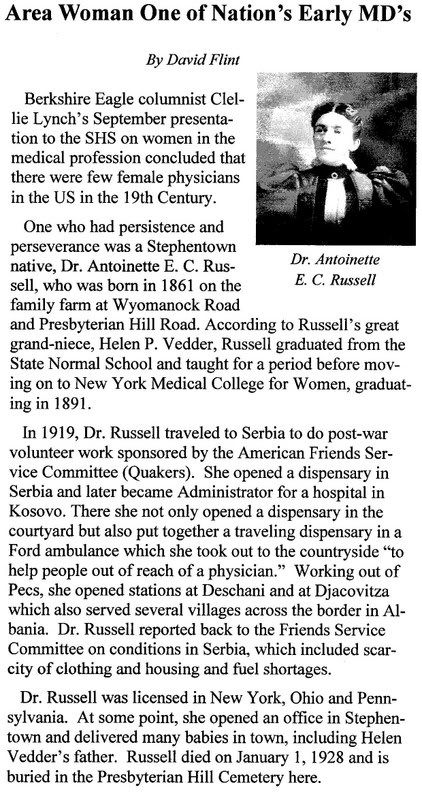 ---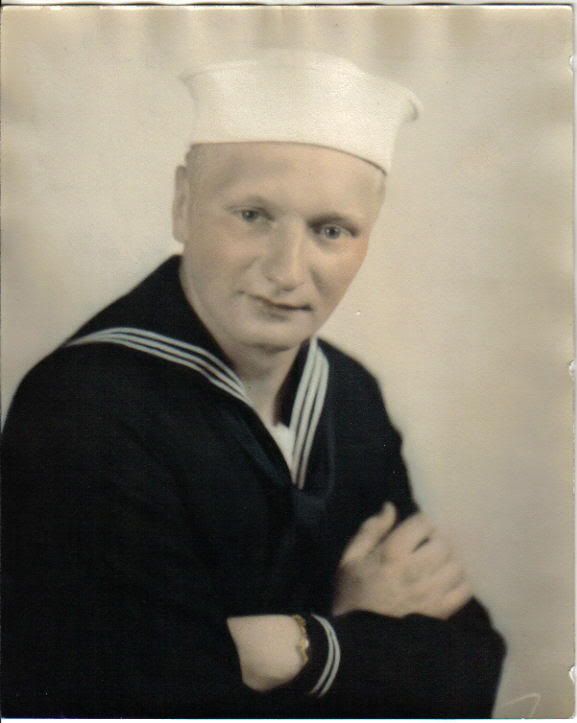 STEPHENTOWN SAILOR IS ON MISSOURI AT TOYKO

Berkshire Eagle – September 1945

The town of Stephentown, which has supplied about 75 soldiers, sailors and marines in the conflict just ended, was represented at the official surrender of Japan on Sunday.

Floyd S. Rose, Electrician's Mate Second Class was aboard the U. S. S. Missouri when the Japanese delegates signed the terms of surrender. Floyd is the son of Henry Rose of Stephentown.

On this momentous occasion in history all of the chief naval and military leaders of the United States in the Pacific, were on the Missouri, flagship of Admiral Halsey.

General Wainwright, commander on Corregidor in the Rock's last tragic days was one of the honored witnesses of the Jap surrender. The old flag which Commodore Perry flew on his mission to open Japan 92 years ago was unfurled again on this historic hour, the final end of Japanese militaristic ambitions. The five star flag of Admiral Nimitz from the battleship South Dakota was also sent to the Missouri for this special occastion. Then our flag which flew over the capital in Washington the day, Japs attacked Pearl Harbor was unfurled. This flag waved successively over Rome, Paris and Berlin, as those capitols fell from the Axis grip.

The symbols and historic significance of these flags emphasized the importance of the day, the official end of long, bloody years of world wars. The days of Japan as a powerful nation, that spread terror over the Pacific and Asia, thus came to an end.

To Mate Rose goes the distinction of being the only local serviceman present on the great 45,000 ton Missouri during the official surrender. Floyd joined the Navy January 18, 1942, and after basic training, he was sent to the U. S. S. Missouri Detail in Brooklyn before the floating fortress was commissioned. He was a member of its crew the first day it sailed grimly off to the Pacific war. Floyd attended District 4 school in Stephentown, and later graduated from New Lebanon Central School and Berkshire Business College. He is a native of Stephentown where he was born in January 1921. Sunday, September 2nd, will be a day he can look back upon in the years to come, for that day he witnessed the act of Japanese surrender aboard the battleship Missouri in Tokyo Bay.
---